Interop Summit
Party for executives of exhibitors, at the first exhibition day's night 1830-2000.
---
Opening
[08-0177]

Full view of the banquet room: Tsuru (or Crane), Hotel New Otani Makuhari.
[08-0173]

Opening address by
Jun Murai,
Chairman of the Steering Committee;
Professor, Faculty of Environmental Information, Keio University.
[08-0174]

ditto.
[08-0179]

Opening address by
Kazuo Furukawa,
President of Internet Association Japan (playing a management role of this show);
Hitachi.
[08-0180]

Opening address by
Dai Tanabe,
Ministry of Internal Affairs and Communications.
[08-0181]

Opening address by
Noriaki Yoshimura,
Ministry of Economy, Trade and Industry.
[08-0184]

Toast by
Morio Sakamoto,
Deputy Governor of Chiba-prefecture.
(It took 40 minutes for all greetings until the toast.)
---
Midstream
[08-0185]

Greetings by
Hiroshi Esaki,
Charman of the Program Committee;
Graduate School of Information Science and Technology, The University of Tokyo.
[08-0187]

Greetings in fluent Japanese, by
Vibhav Kant Upadhyay,
Chairman of India Center Foundation.
[08-0188]

Greetings by
NK Goyal,
President, CMAI Association.
---
Closing
[08-0190]

Closing address by
Hiroshi Fujiwawa,
President, NANO OPTO Media (Organizer).
A aake, as a souvenir this year.
---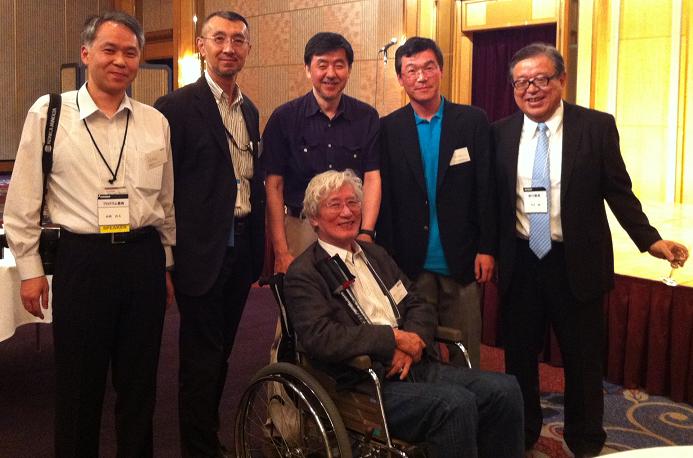 ---
A page of tokyo2011

Roy, Sept. 25, 2011