Two Keynotes
The author attended two of eight keynotes.
---
Opening Address
[08-0005]
Jun Murai,
Chairman of the Steering Committee.
[08-0006]
Hiroshi Fujiwara,
Organaizer.
---
Opening Keynote — Akamai (Day 1 1030-1115)
Opening Speech
[08-0009]
Hiroshi Esaki,
Chairman of the Program Committee.
"Internet no shorai zo: IPv6 ni yotte kawaru sekai to, mirai ni mukete no taio"
[08-0011]

Greg Lazar
Vice President & General Manager
Akamai Technologies, Inc.

Simultaneous interpretation was provided.
[08-0015]

Patrick Gilmore
Chief Network Architect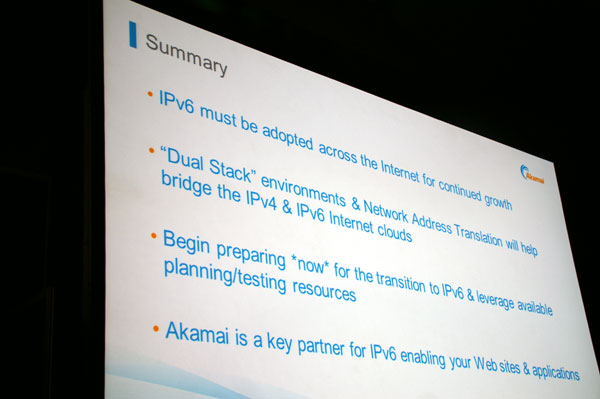 [08-0017] Summary.
[08-0018]
Capacity.
---
2nd Keynote — Juniper (Day 1 1130-1215)
"Kaso datacenter no iryoku o toki hanatsu"
[08-0024]

R. K. Anand
Executive Vice President and General Manager
Data Center Business Unit (DCBU)
Juniper Networks, Inc.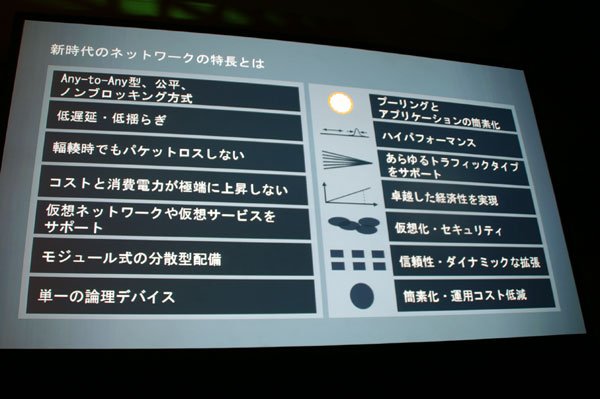 [08-0025] Keypoints (English presentation with Japanese slides).
---
A page of tokyo2011

Roy, June 11, 2011